For generations, their families have never gone to school. Now, these two grandmothers won't stop until their community has the chance they never did. 
Several weeks ago, we had the privilege of sitting down with two extraordinary leaders who are tenaciously changing the future of their communities. These leaders are visionaries: they have the gift of seeing what has never before existed. They see the potential of the places and people around them, and they won't stop fighting to see it realized in their lifetime. They are elders in their community, full of the wisdom of many years of experience. They are Maasai women. 
In 2016, two grandmothers moved to a region called Engusero, about fifty kilometers away from the village of Engitani in Tanzania. This region, which lay around the other side of a small mountain from Engitani, was home to a little over one thousand Maasai, who grazed their goats and donkeys nearby and walked long journeys for a simple bucket of water or cell phone reception. The two women suddenly found themselves neighbors, and they connected over one shared passion: the vision for education in their community. 
When they arrived, the closest primary school was an 12 km walk around the mountain – too long and dangerous for all but the oldest children. They saw the younger children wandering around, missing out on an education, and they were worried about them. "What would be the future of these kids, just running around?" they thought. 
So the women of the village began to meet. They met to discuss their hopes for their community, and the need they saw for education. They discussed options. And the group selected these two grandmothers, Anna and Paulina, to represent them and seek a solution. 
"What was really ringing in my heart was just one thing," says Anna, "education for our children.  I felt, though I don't have a position as a woman in the village, but myself, in me, I feel like I'm a leader in this village."
The two women set off on the 50km journey to visit Pastor Johannes, who led a church in Engitani and is also the General Secretary of all Maasai. They had heard and seen the changes that had come to his community in the past decade – first a school, then clean water, and now a soon-to-be-opened clinic. They respected his leadership, so they told each other, "We have to try. And see if our children can be educated."
On that trip, they met with Pastor Johannes and his wife, and shared their concerns and hope for their community. The pastor could not promise them immediate help, but he told them he would try. The next day, they began the long journey back home. And then they waited.
For the three years they waited. During this time, the women of the village met every Thursday and Friday to pray for their children, and to one day see a school for them. "We never gave up," Anna said. "We just kept on praying." 
In 2019, their prayers began to be answered when Philip Nasari, a Tanzanian social innovator who opened the school and mission base with his wife in Engitani, began to discuss the future of Engusero with Pastor Johannes. He began to drive out and visit the "children around the mountain." He decided it was time to take this new project on. 
Around this time, Loom took a Woven trip to East Africa and came to visit the projects Philip and Lydia oversee. Philip began drawing in the dirt, sharing passionately about the children of Engusero, and their hopes for a school. Within months of the Woven team returning home, generous donations from Korean investors, other investors, as well as Loom and Woven team members made it possible to tell this community that yes, they really would have a school of their very own. 
In eight months, the first building – a preschool classroom – was completed, water tanks were installed, and the community of Engusero celebrated the grand opening of their first-ever school,  as well as the opening of the first running water tap the community had ever seen. "On the dedication day when I saw the school was dedicated," said Anna, "even my heart was vibrating with joy. I thought, Wow, finally it has happened." In January 2020, Engusero opened its doors to the first preschool class of 50 children, and looks forward to expanding up to grade three in the years to come.

Two months after the school opened, the Loom team had the privilege of visiting the community again and speaking with Anna and Paulina. We asked them about their background, where they got this passion for education. Did they ever attend school? When Philip translated this question, Anna laughed. 
"No, I never went to any school," she chuckled. "I'm from the bush, my dad didn't go to school, and I never went to school. I'm from deep interior. I'm an old lady. Though I never went to any school, but I want children to be educated. I have all grown-up kids, but I want all my grandchildren to go to school." The ability to see the potential in the children of her community came from nothing but a deep conviction of their worthiness to have every opportunity for their futures. 
True woman of vision, Anna and Paulina aren't finished yet. When we asked them about their joy in seeing this school built, they grinned.  "We are so happy. But not only that, there is one more thing we are pressing. Getting clean water throughout our village." 
Philip laughed. "They have their checklist," he said. "They aren't going to stop here."
We asked them about their hopes, then, their vision for their community. Immediately, they pulled up a list of four things: water, healthcare, a maize mill, and a permanent church building. These four things would bring a new level of quality life to their community, and keep them from having to travel over twenty kilometers for something as small as a painkiller, or as large as milling their harvest. Clearly, their vision is holistic and wide-reaching.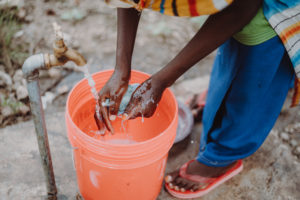 Philip also has his own checklist, his own vision for the community. After opening a second preschool classroom, they plan to expand up to grade three – after which the children should be old enough to manage the 11-kilometer walk to higher grades. Soon, he plans to begin afternoon classes for older children who haven't been attending school and need to catch up, as well as for women who want to learn to read and write. Offices and staff housing are also a need, as is a permanent kitchen building and more water tanks. As you can see, for this visionary combination, a preschool is only the beginning.
Before we go, Anna offers us a Maasai blessing, placing jewelry around our necks and ankles. As we try to explain the way her story has moved us – what an honor it is to stand with them and their community – she waves her hand with a smile. 
"Thank you for coming to us," she says. "I'm so thankful for an opportunity to share my heart." 
A heart, I think, as wide as every child they have ever known.